Are you looking to game with the added security and privacy that cryptocurrencies offer? Crypto.Games is your best bet: with fast transactions and old-school games sure to give you nostalgic flashbacks, here you will find eight provably fair games with an extremely low house edge—between 1% and 2.7%, visible next to each game for added transparency.
Crypto.Games Review Summary
Short, sweet, and to the point: these are the three words that best describe the Crypto.Games casino. Sign up in less than a minute, deposit cryptocurrency, select a game, and play!
Crypto.Games offers a simple interface, a handful of classic games, and no unnecessary complications, so gaming aficionados will have the perfect spot to kick back a little and enjoy a game or two. In case you run out of funds, Crypto.Games also offers a faucet so you don't have to miss out on the fun.
Crypto.Games Pros & Cons
As is the case with everything, Crypto.Games has its own share of perks and drawbacks.
Pros
Easy signup process. You don't need to leave any personal information – open an account, make a crypto deposit, and you're good to go.
Play using top cryptocurrencies.Crypto.Games lets you bet using Bitcoin (BTC), Ethereum (ETH), Litecoin (LTC), Dogecoin (DOGE), Monero (XMR), Bitcoin Cash (BCH), Ethereum Classic (ETC), Dash (DASH), or NeoGas (GAS) coins. Besides, you can convert many other altcoins to coins supported by the platform using its CoinSwitch integration.
Provably fair: this means that there are third-party tools (that you can access from Crypto.Games directly) to prove that the games are truly random and not rigged in favor of the house.
Low house edge: every casino has an edge or advantage over you. In the case of Crypto.Games, this edge ranges between 1% and 2.7%, depending on the game of choice, which is far below the industry average. A low house edge means you win more here, compared to other casinos.
Fast transactions: not only can you withdraw your funds quickly, you can also choose exactly how quickly by setting the fee lower or higher than the average. Notably, Crypto.Games supports Lightning network-powered deposits.
Progressive jackpots: the more you play, the bigger the jackpot pool gets!
Decent array of supported cryptocurrencies: you can choose from a number of supported cryptocurrencies to play with. However, make sure you don't deposit something that's not supported, as this could lead to losing your money!
Cold wallets: Crypto.Games use cold wallets for storing your holdings and move funds to hot wallets only to fulfill recent withdrawal requests.
Cons
Only eight games: although the games on offer are the usual most popular ones, the selection could be a little too limited for some.
Appearance offers room for improvement: both the visual appearance of the games and the sound effects could be better.
Overall, Crypto.Games is a super user-friendly crypto casino, that makes it easy to start playing your favorite casino games with crypto.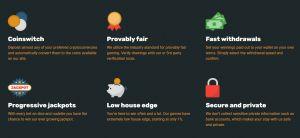 What Is Crypto.Games?
Crypto.Games is an online cryptocurrency casino, established in 2020. The team had first launched a Dogecoin slot machine site, but only a few months later, after noticing the interest in cryptocurrency gambling, they decided to launch Crypto.Games to offer a wider array of cryptocurrencies. After that, when slot machines couldn't scratch the itch anymore, they added dice, followed by Roulette, Blackjack, Lottery, Video Poker, Plinko, and Minesweeper for a total of eight games currently available.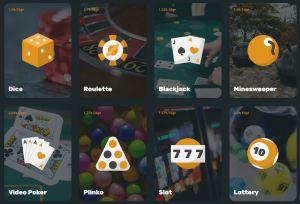 The restricted choice of games can be both a good thing and a bad thing: while the selection is limited, you also don't have to spend too long figuring out what you want to play—all the basics are there. Since the games are simple, they also load very quickly, meaning you won't be wasting any time waiting for it to fire up, which also means the subpar graphics and sound effects are not necessarily a dealbreaker.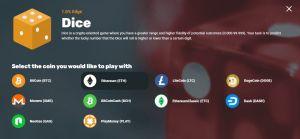 Crypto.Games Bonuses
One of the most important questions in gambling is whether you can play for free. Many providers offer daily bonuses, promotions for new players, etc. Crypto.Games uses the Faucet Bonus model for this: traditionally used so users can familiarize themselves with the way a certain casino works by offering them a small amount to play with, in the case of Crypto.Games, Faucet Bonuses increase based on account age, amount wagered, referral commission, chat messages, and other factors. In other words, not only does the Faucet offer you a way to learn the ins and outs of playing, but you can also keep playing when you're out of money once you're already a veteran.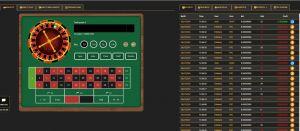 However, the Faucet Bonus is also subject to some restrictions. Faucet abuse is strictly prohibited and includes things such as constantly withdrawing from faucets, betting from faucets and depositing to reach the withdrawal limit, all-in bets at high multiples that are executed for as long as needed to reach the minimum withdrawal amount, creating a second account to claim referral bonuses, etc.
The most lucrative reward program is Crypto.Games monthly wagering contest, which starts on the first day every month at 0:00 UTC and lasts until the last day of the month, 23:59 UTC. Here, you can climb the leaderboard by simply playing games with your favorite coin, as well as follow respective rewards for each cryptocurrency.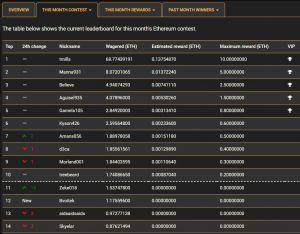 Crypto.Games wagering leaderboard for ETH.
Besides, top spots from the monthly wagering contests (top five players from Bitcoin and Ethereum leaderboards, top 3 from Litecoin, and top players in the rest) win Crypto.Games VIP membership, which comes with a wide array of benefits, including, but not limited to:
Lower House Edge on Dice
Highest Bet Priority
USD 100 of BTC worth birthday bonus
VIP tag and chat room
Free Lotto Entries
Monthly voucher drops
…and more!
Learn more about Crypto.Games VIP benefits here.
Deposits & Withdrawals
Crypto.Games only accepts cryptocurrencies with the following minimum deposit amounts:
0.0001 Bitcoin
0.01 Ether
0.01 Litecoin
0.02 Ether Classic
100 Dogecoin
0.01 Monero
0.001 Bitcoin Cash
0.01 Dash
0.02 GAS
In other words, any lower amount that you try to send to your Crypto.Games account will simply not be credited, meaning you lose the amount forever. You also need to double- and triple-check the address you're sending to for the same reason: cryptocurrencies, once sent, have no built-in system of retrieval. A mistaken address means funds are lost. You will also have to wait until the transaction is confirmed before the funds are credited to your account.
A cool feature of Crypto.Games is that you can make deposits in more cryptocurrencies that are supported by the platform. This is due to its CoinSwitch integration, which automatically converts any altcoin deposit into Bitcoin (BTC), Ethereum (ETH), Litecoin (LTC), Dogecoin (DOGE), Monero (XMR), Bitcoin Cash (BCH), Ethereum Classic (ETC), Dash (DASH), or NeoGas (GAS). CoinSwitch instant-conversion feature currently works with the following coins:
0x (ZRX)
Ark (ARK)
Augur (REP)
Basic Attention Token (BAT)
Binance Coin (BNB)
Bitcoin Gold (BTG)
Cardano (ADA)
Chainlink (LINK)
Cosmos (ATOM)
Dai (DAI)
DigiByte (DGB)
Enjin Coin (ENJ)
EOS (EOS)
Holochain (HOLO)
Icon (ICX)
Komodo (KMD)
Lisk (LSK)
Maker (MKR)
Nano (NANO)
Nem (XEM)
Neo (NEO)
OmiseGO (OMG)
Ontology (ONT)
Paxos Standard Token (PAX)
Peercoin (PEER)
Qtum (QTUM)
Ravencoin (RVN)
Ripple (XRP)
Stellar Lumens (XLM)
Tether USD (USDT)
Tron (TRX)
TrueUSD (TUSD)
USD Coin (USDC)
VeChain (VET)
Verge (XVG)
Waves (WAVES)
Besides, Bitcoiners can make BTC deposits via the Lightning Network, which serves to reduce your on-chain fees.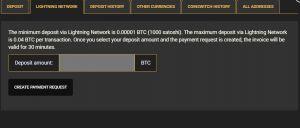 When it comes to withdrawals, all of your deposits first need to have at least two blockchain confirmations before you can request a withdrawal. Additionally, the request needs to be confirmed via email as an added security measure; if you forget to do this, the link expires in 24 hours and the withdrawal doesn't go through. You can choose your transaction speed with a handy slider—just keep in mind that quicker withdrawals mean higher network fees. The minimum withdrawal amount is 0.002 BTC or altcoin equivalent.
It must also be kept in mind that Crypto.Games does not offer refunds of any sort — for the same reason that the house does not request a refund when the player wins.
Crypto.Games Security
At Crypto.Games you won't be able to open an account if you're using a temporary email provider—you'll have to enter a "real" address first, then confirm it. Aside from the usual password security (a combination of uppercase and lowercase letters, numbers, special characters, etc.), Crypto.Games also encourages their users to set up two-factor authentication.
In terms of game fairness, all Crypto.Games are provably fair. In simple terms, provably fair means that the games are open and verifiable with cryptographic signatures, so neither other players nor the house can cheat.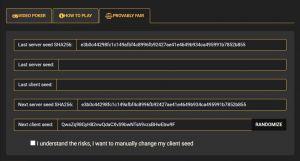 All Crypto.Games games are provably fair.
When it comes to protecting funds, Crypto.Games keeps the majority of their holdings in cold wallets with publicly visible addresses. This means that you can verify that they are able to pay out any winnings, but the funds themselves cannot be compromised, allowing for both security and transparency.