If you're looking for a crypto hardware wallet designed for Ethereum, ERC-20 tokens, and all sorts of NFTs, Keycard might be the right option for you. Designed to be used together with a Status app, it provides you with a higher level of security and ownership of your transactions and private keys. It can also be used as a two-factor authentication (2FA) key in the Status app to protect your personal account. This review examines the Keycard wallet, its usage, security, features, and more.
Keycard wallet is one of the best options for DeFi enthusiasts. Key features of the wallet include:
Status app integration. When used with the Status app, Keycard delivers a seamless user experience unmatched by other hardware wallets. Besides, you can browse top Ethereum dapps, play games, send private messages, and make or receive payments directly from and to your Status wallet.
Compatibility with all major cryptocurrencies. If you're a developer, you integrate Keycard into other wallets or products using its Open API.
Contactless transaction verification using NFC. Keycard enables you to carry your cryptocurrencies on your phone as it turns it into a reliable cold wallet. If you need to spend your coins, all you need to do is initiate a transaction and confirm it with your Keycard.
Can be integrated with a Desktop Wallet. If you have a USB-contact reader, you can integrate Keycard and use it with a desktop application.
Tap-To-Launch feature. Keycard can be set to launch a designated app or URL by simply touching it to your NFC reader.
Familiar design. Unlike clunky hardware wallets, Keycard can fit into your physical wallet and be used on-the-go as it has a size of a standard Visa card.
When used with the Status app, Keycard does not support non-ethereum tokens, which means that you cannot store tokens like Bitcoin or Litecoin on it. However, it supports all ERC-20 tokens, and you can still store bitcoin on it by exchanging your BTC to ERC-20 compliant Wrapped Bitcoin (WBTC).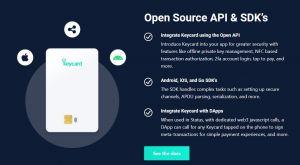 Nevertheless, more technically adept developers can integrate Keycard with their own products using the Open Source Keycard API and use it to store any other cryptocurrencies that use secp256k1 ecdsa signatures, which includes Bitcoin (BTC), Litecoin (LTC), XRP, Bitcoin Cash (BCH), and other crypto assets.
The Keycard wallet is a secure, open-source, contactless hardware wallet with open API, built as a part of the Status Network.
At the moment, Keycard can be used as a hardware wallet only, but its roadmap includes introducing physical payments with Keycard, where your phone acts as a universal digital wallet.
Currently, Keycard costs only EUR 29 or its equivalent, and can be purchased via this link.
How to use Keycard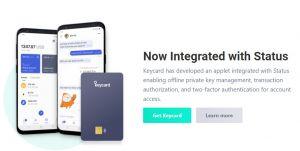 Setting up a Keycard wallet is relatively simple. Unlike its competitors Ledger or Trezor, Keycard was designed to be a mobile-first hardware wallet from the get-go.
Setting up a Keycard goes like this:
Download the Status app from the Google Play Store or App Store and follow on-screen instructions.
Open the app, tap your card to your phone's NFC reader, and set up your Status account and wallet. Make sure that your phone's NFC sensor is on.
Write down your recovery seed and passphrase and keep it in a safe place. The best practice is to keep your seed engraved on a durable material such as a metal plate like CRYPTOTAG; however, a simple sheet of paper may do it temporarily, too.
IMPORTANT: During the process, the Status app will also ask you to write down a pairing code and PUK. Much like your mnemonic (seed) phrase, it will not be presented to you again, so make sure to keep them secure if you ever forget your PIN code or want to use Keycard on another phone. It is possible to use one Keycard on several phones simultaneously, and one pairing code lets you set up up to 5 concurrent secure channels.
Here you have it! Your own Ethereum hardware wallet. The process of onboarding is an easy, clear, and smooth experience, so all you need to do is follow instructions received in the Keycard package and on-screen in the Status app. In fact, it's so smooth that even your grandma could probably do it.
The Status App
At pixel time, Keycard can be used with the Status app, which is available on Android only. Nevertheless, the team is working on an iOS version, too.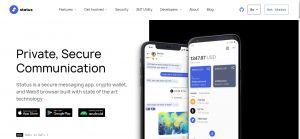 Status is an Ethereum messaging app and web 3.0 browser startup that lets you explore other dapps and communicate with like-minded people privately using Ethereum blockchain. Besides, the app makes it easy to make crypto payments and browse your wallets, and Keycard lets you make contactless payments wherever you have your phone.
Keycard security
Keycard wallet is entirely open-source and you can find its Github repository here. Technically speaking, it provides a hardware implementation of the BIP-32 HD wallet to support key generation, derivation and signing and exporting EIP-1581 keys.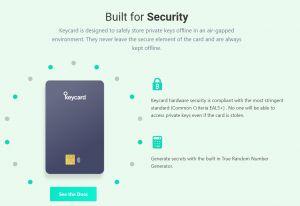 The Status wallet is a non-custodial service, which has been audited by a third-party security firm, so you can recover your account with your seed backup even when you lose your mobile device.
The Keycard's security is based on the applet software used on the card, which has been audited by a third-party security auditing firm, too. In more technical terms, Keycard is a SE secure element with a high degree of hardware protection and has passed CC EAL5+ formal testing.
If you have any further questions or want to contact the wallet's developers, you can do so in its official communication channel here or in the official Discord channel.