If you want to keep your cryptocurrency secure, a crypto hardware wallet is a way to go. But which one should you choose? In this article, we review Trezor Model T – one of the most advanced multi-currency hardware wallets out there.
Trezor Model T: Key features
Trezor Model T is an advanced hardware wallet for true cryptocurrency holders and enthusiasts. Released in February 2018, Model T is the next-generation device that:
Supports more than 1650 coins and tokens. Store Bitcoin (BTC), Ethereum (ETH), Dogecoin (DOGE), various stablecoins, tokens, and other crypto assets. The complete list of Model T supported cryptocurrencies can be found here.
Advanced security measures. Put your assets in secure cold storage and back up your seed phrase with advanced security measures like Shamir backup.
Improved usability thanks to the integrated touchscreen. Unlike its predecessor, Trezor One, the Model T comes with a touchscreen, making it more convenient to interact with the device and its security features.
Mobile connectivity. Make payments with your phone by plugging-in the device to your phone via WebUSB.
Extra features for power users. Tech enthusiasts can get the most out of Trezor Model T by making use of its additional features like passwordless login, self-destruct PINs, universal 2nd-factor authentication (U2F), SSH login, GPG, and much more.
Overall, Trezor Model T is a top-notch device for the security of your crypto assets. Whether you're a newbie or a pro, using Trezor is a smooth and wholesome experience.
What is Trezor?
Trezor is a cryptocurrency hardware wallet brand by crypto-security firm SatoshiLabs. Established in 2013, SatoshiLabs has released two Trezor products to this day – Trezor One and Trezor Model T hardware wallets. The company is based in the Czech Republic, which is where it manufactures Trezor devices.
Aside from Trezor, other projects by Satoshi Labs include:
Tropic Square: Open-source, transparent and secure chip solutions.
Invity: a cryptocurrency rate comparison tool.
Blockbook: an open-source blockchain indexer.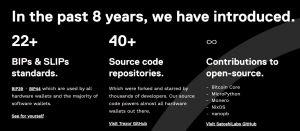 Source: SatoshiLabs.com
Perhaps the most important project of the above is the 'Tropic Square' initiative, which produces Trezor's open-source element chip. Other popular crypto hardware wallet developers tend to use a closed-source secure chip, which means you have to trust the hardware manufacturer not to introduce back doors and other third-party-related security risks.
Today, Satoshi Labs remain one of the most reputable cryptocurrency hardware wallet developers. It has not experienced any large-scale hacks nor scandals, so its devices remain one of the safest options on the market to this day.
What's in the box?
A standard package of Trezor Model T wallet contains the following items:
Welcome leaflet
USB-C to USB 2.0 cable
Two paper recovery seed cards
Trezor stickers
Magnetic dock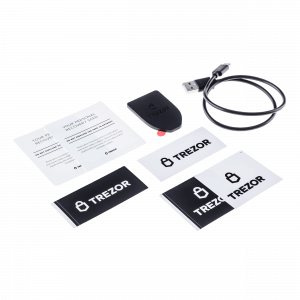 Additional Trezor Model T accessories like recovery seed plates, extended cables, or leather cases can be purchased at the Trezor shop.
Trezor Model T design and usability
Trezor Model T has a nice feeling to it – it is lightweight and easily portable yet durable. Unlike Trezor One, it has a touchscreen interface, which not only makes it look better than its predecessor but also makes it easier to navigate.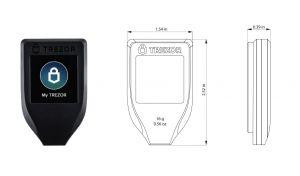 As a user-friendly device, Trezor Model T is used together with Trezor Suite, which can be downloaded here. The software stack makes it easier to interact with the device, while simultaneously protecting your private keys from exposure to the internet.

Trezor Model T security
Cryptocurrencies are much different from traditional bank accounts, which are protected by passwords and other authentication techniques. Storing digital assets in your private wallet used to be no easy feat, but hardware devices like Trezor make it significantly simpler. So how does Trezor Model T secures your funds?
First and foremost, the device is used to store your private wallet keys, which are the only proof that your cryptocurrency holdings belong to you. Trezor allows you to sign cryptocurrency transactions without exposing your private key to external devices, making it a highly secure option for every crypto holder.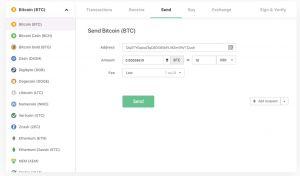 The device is equipped with a 168MHz AMR processor (Cortex-M4) and runs Trezor Core, a custom-developed system. All Trezor hardware and software is open-source, which makes Trezor one of the most transparent hardware wallet providers. Notably, Trezor Model T does not have a closed-source secure element and instead encrypts all data using a passphrase.
When it comes to supply chain attacks, it is good to know that all Trezor devices are manufactured and packaged in the Czech Republic. The company ships devices worldwide using its network of trusted supplies and Amazon. To further defend its devices from potential supply chain attacks, Trezor Model T is kept in a separate container and tamper-evident box sealed with a holographic sticker.
If any of the package's components appear to be damaged, counterfeit, or tampered with, be sure to check if the device has already been set up or run the bootloader to check for a valid firmware signature. If a device from an official seller appears to be compromised, you contact Trezor and receive a replacement device.
Make sure to acquire the device either from Trezor's webstore or via one of its official resellers. Trezor cannot guarantee the security and genuineness of devices that we're purchased from unofficial third-parties.
A complete overview of the Trezor security scheme, as well as its open-source code, can be found here.
Recovery seed
When setting up a Trezor device, you will be asked to generate a recovery seed, which is a secure, human-readable sequence of 12 or 24 words from a BIP39 word list. You will need it to restore your wallet if your Trezor device breaks down, is stolen, or you lose access to it. It is by far the most critical part of your security setup, so make sure to back it up safely and securely, where it will be outside the reach of potentially malicious actors like hackers or robbers.
It is not recommended to store your recovery seed online, and ideally, you should never enter it into any other device except your Trezor during the wallet recovery process.
Generating a BIP39 word list using a Trezor wallet means that you generate it completely offline, where no one else can access it. Statistically, it is impossible to brute force or guess it in any other way, so it remains secure as long as it hasn't been copied or exposed to a digital network.
In case you're wondering what's the best way to secure your recovery seed, check out our CRYPTOTAG seed recovery plate review.
Alternatively, Trezor Model T is the only device on the market that lets you generate a split-recovery seed using a Shamir backup method.
Shamir backup
Unlike other cryptocurrency hardware wallets, Trezor Model T also lets you back up your device's recovery seed by splitting it into multiple unique shares. To recover the wallet, only a designated number of seed shares has to be collected and used – this is called a Shamir backup method, named after cryptographer Adi Shamir, the author of Shamir's Secret Sharing algorithm.
In more practical terms, instead of generating a single BIP-39 seed phrase of 12, 18, or 24 words, you can generate up to 16 recovery shares consisting of between 20 and 33 words and set a minimum threshold of how many recovery sheets will be needed to recover the wallet. The minimum threshold for a full wallet recovery is at least two recovery shares.
Each share can be held in different places with different people and constitutes a truly decentralized security setup. As such, even if you lose a certain amount of shares, you will still be able to recover your cryptocurrency funds without an issue.
The most common Shamir backup setups use either 2-of-3 or 3-of-5 shares, but you can adjust it to your own individual needs as it is highly customizable.
Trezor PIN code
Trezor Model T lets you secure your crypto assets by setting up a unique PIN code meant to secure your device while it is in use. It is a sequence of numbers that you will need to enter into the device every time you're connecting it to an external device in order to make transactions or generate new wallet addresses.
Unlike its predecessor, Trezor One, Model T allows you to enter your pin directly into the device using its touchscreen instead of typing the numbers on a randomized keypad generator on an external monitor, which makes using it smoother and more convenient.
Passphrase
Finally, it is recommended that you set up a passphrase in addition to your PIN code. It is an advanced security feature that can be used to protect your accounts against sophisticated physical attacks on your device.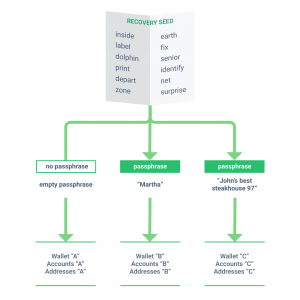 Think of a passphrase as a way to extend your recovery seed. It consists of up to 50 case-sensitive characters and is chosen by you. Unlike entering a PIN, entering a wrong passphrase will generate you a completely new 'empty' wallet, meaning that it is impossible to access your funds without a correct passphrase. You can also use several passphrases to set up a 'decoy' wallet in case of a successful physical attack.
Trezor Model T: supported coins
Trezor Model T is a multi-currency crypto wallet, meaning that it supports bitcoin and more than 1650 altcoins. A complete list of supported coins can be found here.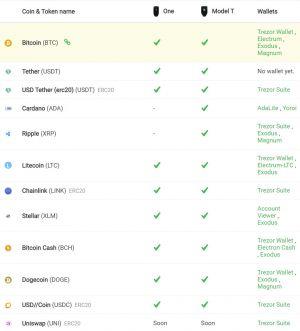 Trezor Model T vs Trezor One
Trezor Model T is a second-generation Trezor hardware wallet released on February 26, 2018. Its predecessor, Trezor One, has passed the test of time and can be considered as a reliable budget alternative to Trezor Model T.
Here's how the two devices match up to each other:
|   | Trezor Model T | Trezor One |
| --- | --- | --- |
| Release date | 2018 | 2014 |
| Processor | 168HMz AMR Cortex-M4 | 120MHz AMR Cortex-M3 |
| Supported coins | 1652 | 1646 |
| Size (mm) | 64x39x10 | 60x30x6 |
| Weight (g) | 22 | 12 |
| Screen resolution | 240×240 | 128×64 |
| Touchscreen | Yes | No |
| PIN code | Yes | Yes |
| Passphrase | Yes | Yes |
| Shamir backup | Yes | No |
| FIDO2 authentication | Yes | No |
| USB-C to USB 2.0 cable | Yes | Yes |
| 2x recovery seed cards | Yes | Yes |
| Password manager | Yes | Yes |
| SD card slot | Yes | No |
| Built-in mobile connectivity | Yes | No |
| Magnetic dock | Yes | No |
| Price (EUR/USD) | 192.39 EUR / 192.9 USD | 59 EUR / 59.9 USD |
One important difference between Trezor One and Model T is that Trezor One does not yet support the wallets of following altcoins supported by Model T:
How to set up Trezor Model T?
In order to set up Trezor Model T, follow these steps:
Examine the tamper seal to see if your package hasn't been opened during the delivery process.
Unbox the package and connect your Trezor to the device.
Download and install the Trezor Suite.
Click the "Create a new wallet'' button. The device will ask you to check if the wallet has been used before, so make sure you hit 'Check Trezor' to see if anyone interacted with the device before.
Install the latest firmware on your Trezor.
Choose your preferred backup method. You can choose between a standard seed and an advanced seed, which means using a Shamir backup method we described earlier.
Follow on-screen instructions to create a wallet.
Back up your seed phrase in a secure, offline location
Create a PIN code for your Trezor Model T.
Congratulations! Now you can use your device for receiving, storing, and sending your crypto assets in a highly secure manner.
Still confused? Here is a detailed video tutorial by well-known Bitcoiner BTC Sessions that you can follow along.
Trezor for power users
Asides from storing your crypto assets, Trezor power users can use Model T for the following tasks:
Better safe than sorry. If you're going to store large amounts of value on your Trezor Model T, it is not recommended to use it as your password manager. Though this is feasible, it is not the most optimal strategy for one's security setup.