Solana (SOL) is a web-scale blockchain aiming for speed and scalability, but also transparency, decentralization, and security. The project addresses the issues of scalability that plague most blockchain-based solutions nowadays and claims to have a throughput of more than 50,000 TPS. A significant factor making this possible is its consensus algorithm, Proof of History, which allows for more efficiency within the network.
The SOL token is Solana's native currency that can be used to perform micropayments or to facilitate on-chain programs and/or validating their outputs. The token can also be staked to generate additional rewards, which makes them very attractive to prospective investors looking for a way to generate passive income.
How and Where to Buy Solana in 2023?
Solana's use case, and especially the different use cases of its native coin, make it clear why the SOL token is sought after. In this guide, we will cover five possibilities; each of these has its own strengths that may work for some traders, but less for others, and vice versa. What is more than likely, however, is that this list will help you find where to buy SOL with low fees and high liquidity.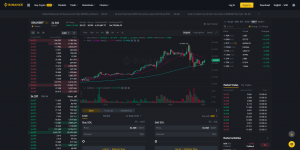 This is our list of the best exchanges to buy Solana (SOL) in 2023. Do you think another exchange should have been mentioned? Is there one you prefer more than the others? If so, feel free to contact us and give us your feedback!