MetaMask is a cryptocurrency wallet that is available as a browser extension to help you store tokens, interact with decentralized applications, and trade Ethereum.
By connecting users with MyEtherWallet, MetaMask eliminates the need to enter private keys at the execution of each transaction while creating, storing, or trading tokens.
Users can store and manage their Bitcoin, Ether, and other cryptocurrencies using a blockchain wallet, which is available as a digital or online wallet. A blockchain wallet enables cryptocurrency transfers, prevents theft of crypto assets, and allows users to convert them back into their local currencies if needed.
MetaMask is the most popular blockchain wallet today, with monthly active users surpassing 30 million, thus making MetaMask the most widely-used non-custodial crypto wallet in the world. The MetaMask browser extension provides a vital utility for crypto gamers, developers, and newcomers to the blockchain space.
Its community is strong, with over a million downloads, and it has many resources contributing to the project.
The MetaMask browser extension is a browser extension that can act as your Ethereum wallet. Unlike traditional wallets, MetaMask requires no additional plug-ins, so you're free to use it in any browser.
Once installed, you can view your Ethereum address and send or receive coins to any Ethereum address in turn. MetaMask allows you to stake coins on gambling sites and trade on DEXs, as well as participate in projects like PoolTogether and Compound.
The MetaMask application is available for both desktop and mobile platforms. The downloading process is largely the same on all supported browsers. Before you decide to use this tool, make sure you understand the advantages and disadvantages of the tool.
This comprehensive guide will show you how to install the extension, create a wallet, write down your seed phrase, and send ETH to your wallet.
What advantages does MetaMask have?
MetaMask offers a secure and convenient wallet. As an open-source application, MetaMask is a reliable tool with an easy-to-navigate user interface and consistent customer support. It offers the users complete control over and access to their funds on local devices.
MetaMask helps you to access your funds without any hassle, as it does not require you to manage private keys at each and every transaction that you undertake. Instead, it automatically signs all transactions and pops up a confirmation window when you make a payment.
However, you have to remember a set of words that will prove your identity. This wallet is widely used by people who want to make secure cryptocurrency payments. It is safe to use because it works with the Ethereum blockchain.
The extension also allows you to interact with distributed applications in browsers like Chrome, Firefox, Opera, and Brave. It will store all of your crypto assets and allow you to interact with decentralized applications or dApps without having to set up separate accounts.
This eliminates the need to download entire blockchains, minimizes the risk of malware, and protects your personal information.
As the name implies, MetaMask is a gateway into the world of dApps. Unlike other centralized exchanges, MetaMask connects to decentralized applications and smart contracts. You can perform actions and events using dApps. Typically, these actions require payment in Ethereum or a crypto token.
MetaMask makes these interactions much easier to perform. Moreover, it integrates with two exchanges. If you use Ether, MetaMask links to Coinbase.
If you prefer ERC-20 tokens instead, try ShapeShift. If you have any questions, MetaMask provides comprehensive support pages and a video introduction.
Although MetaMask offers many advantages, it is also vulnerable to phishing attacks. Phishing attacks are designed to steal your personal information. They are known to happen with MyEtherWallet.
To avoid such an attack, use strong passwords and only log in from its official website. It also has an internal protection mechanism that blocks phishing attacks and other attack vectors.
Another advantage of MetaMask is its ease of use. In contrast to hardware wallets, the software is easy to install and use. It is also free to use, and you can set up as many accounts as you want.
On the downside, MetaMask does not support a variety of cryptocurrencies, including Litecoin. Nevertheless, you can use it to store your crypto assets. Its low fees make it one of the most convenient cryptocurrency wallets available on the internet.
How to get started using MetaMask
MetaMask is a new type of crypto wallet that is aimed at helping cryptocurrency users establish their identities on the internet. The service is quick and easy to use, and the process of setting up a new account is swift and painless.
The first thing to do is to create a seed phrase, which will serve as a backup password. During the process, you will have to confirm your seed phrase using a confirmation button and a message. After installing the MetaMask extension, go to your browser's extension's settings and sign in to the site.
You'll be asked to create a strong password. Accept MetaMask's terms of service, and save your seed phrase. Next, you'll be prompted to accept the terms of service and receive a unique Ethereum wallet address. Once you've confirmed your new account, you're ready to use MetaMask.
Once you sign in to your MetaMask account, you can connect it to the network of your choice. To add a network, select "Networks'' and then click "Add Network." You can also manually add the Celo network to MetaMask. Once you've added the network, you can add tokens to your account next.
MetaMask is available as a free Google Chrome extension, as well as for IOS and Android native applications. It also supports Firefox, Chrome, Brave, and Edge Browser. You can find step-by-step instructions on how to set up your account on MetaMask's website.
You must also have an account with the company to access your wallet. Once you have an account, MetaMask will display a list of supported browsers.
MetaMask Guide: How to Set Up MetaMask Wallet?
Don't let the cute fox logo logo fool you. MetaMask is one of the most important bridges into the world of decentralized applications (dapps) as it lets you storesEther and other ERC-20 tokens in secure place. MetaMask manages the wallet…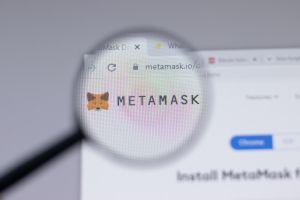 Don't let the cute fox logo logo fool you. MetaMask is one of the most important bridges into the world of decentralized applications (dapps) as it lets you storesEther and other ERC-20 tokens in secure place.
MetaMask developed the wallet, allowing transactions with other Ethereum-based addresses, and also lets you operate dapps without having to be a part of the Ethereum network.
Before MetaMask, you had to hand out your security keys from private wallets in order to engage with dapps. Now you can quickly access NFT Art Marketplaces like OpenSea and DeFi apps like Compound with less invasiveness to your privacy.
With its ease-of-use and utility, learning how to set up MetaMask is a great gateway into the decentralized world.
In this guide, we'll show you how to set up a MetaMask on both desktop and mobile in a secure and reliable way.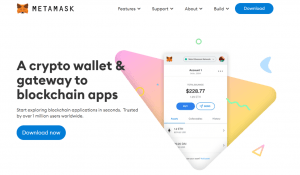 Setting up a MetaMask on Desktop
It's recommended that you use Google Chrome for MetaMask as the browser generally has less problems than others. After opening up your Chrome browser, type in the URL metamask.io at the top to ensure that you're on the right platform.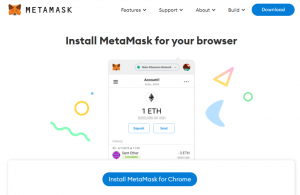 After you enter the URL, click the download button and install MetaMask for Chrome. Add the extension to your browser.
You should see it downloading at the bottom before you're transferred to the MetaMask page.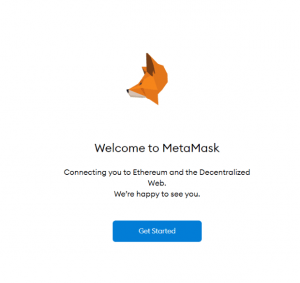 Click the Get Started button and it will ask you if you're new to MetaMask. If you already have a seed phrase and want to gain access to it, this is where you can import your wallet. If you're just getting set up, click Create a Wallet.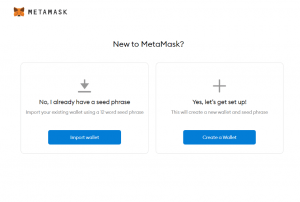 After clicking Create a Wallet, MetaMask will ask for your information in order to improve their platform.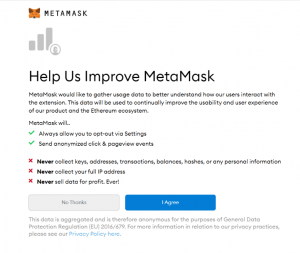 Click 'I Agree' if you're comfortable with MetaMask using your usage data to better their application. If not, click 'No Thanks'.
Next, it will take you to password creation. For security reasons, you should create a completely original password made with a combination of letters, numbers and symbols.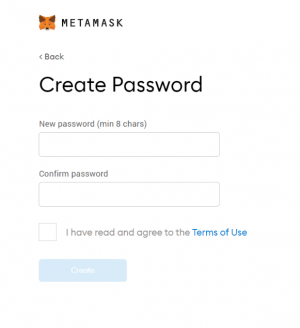 Create your password, agree to the Terms of Use, and hit Create. You'll be using this password when you are prompted by MetaMask or a dapp to log in to MetaMask.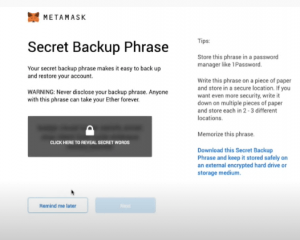 Create your 12-word seed phrase, as MetaMask calls the Secret Backup Phrase. In this way, you can restore your account if you ever delete MetaMask from your browser. You can also access your account on a new computer from anywhere with a seed phrase. You'll be asked to confirm your secret phrase in the correct order on the next page.
Keep this seed phrase on a piece of paper and secure it in a completely private location. MetaMask suggests storing it in a bank vault, in a safe, as well as other multiple secret places.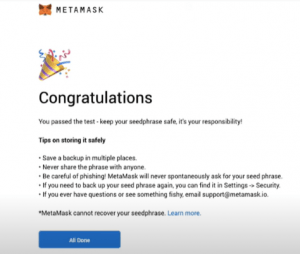 Awesome! Now that you've created your MetaMask, all you have to do next is transfer Ethereum tokens, which we'll cover in another article. After filling up your wallet, you can dive deep into the decentralized ecosystem, like buying and selling NFT art or going for big gains in decentralized finance. MetaMask connects to applications fast, so you should be diving into the decentralized world in no time!
If you want to learn about setting up MetaMask on mobile and even sync your browser extension to the mobile app, read on.
Setting up MetaMask on Mobile
As more and more decentralized applications are on mobile, learning how to set one up will give you access to dapps on the go. The mobile app also goes the extra distance in making you familiar with the application.
Simply search MetaMask in your phone's store and install to begin. IMPORTANT: Be wary of imposter apps and only choose the one with most downloads and developed by the original, credible developers or risk losing your funds.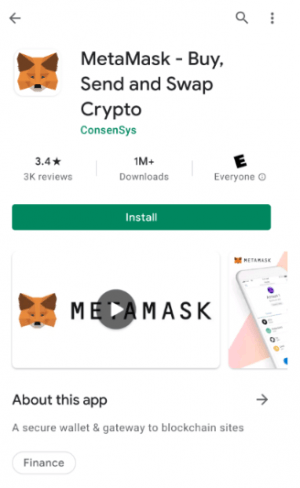 After clicking Install, you'll be welcomed by MetaMask.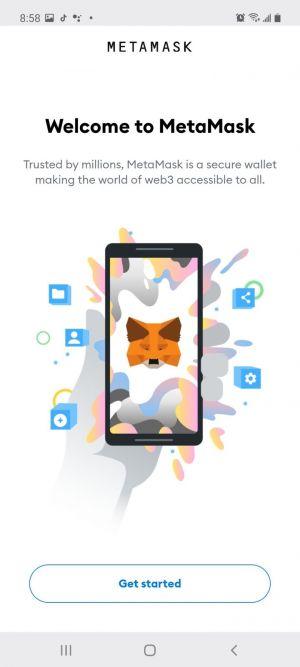 Press Get started to start setting up your wallet. After this point, certain phone screenshots are not allowed by MetaMask for security reasons. If you need photos for reference, it's fairly similar to the desktop version above, so you can scroll up.
In the next step, you can choose to sync your MetaMask to your desktop extension. You'll have to open the extension on desktop, proceed to Settings > Advanced, 'Sync with Mobile,' and scan your QR code. After this, your desktop extension will be connected to your MetaMask.
If you're looking to have your own mobile MetaMask wallet, click Create a new wallet.
Like the desktop version, it will ask you to create a new password and confirm that password. Read and agree to the Terms and Conditions.
Next, you'll create your 12-word seed phrase. You'll be prompted to confirm that seed phrase by clicking the words in the correct order. Like the desktop version, store your seed phrase safely. The app will also ask if you want to share your usage data. Again, choose whichever option you feel comfortable with.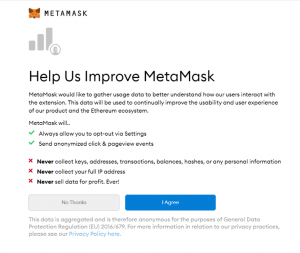 After that, you'll be prompted to take a tour of the mobile app. It will mention that you can create multiple accounts on your MetaMask by just tapping on the mobile icon. MetaMask will then suggest that you create an account name, mentioning that the name should be memorable and distinct, like CryptoCuddles for example.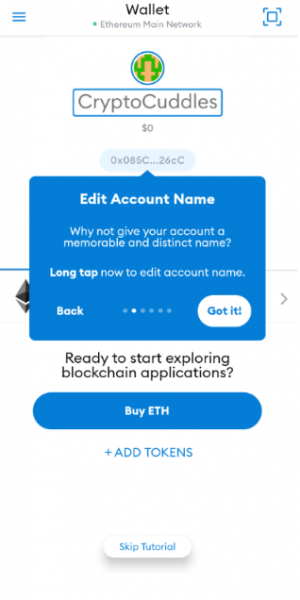 After creating your account name, the app will lead you to where you can find your Wallet options, Transaction History, link to share your Public Address, and so forth.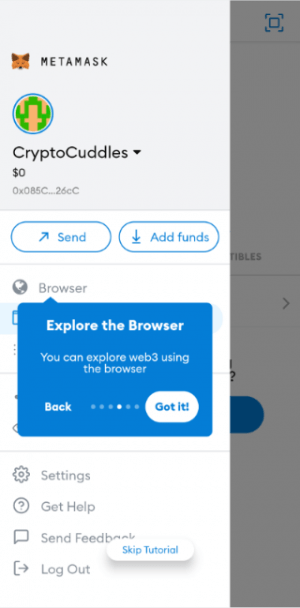 Then, MetaMask will relay you to the search page. The app is neatly laid out. It gives organized suggestions for ways you can use your MetaMask application.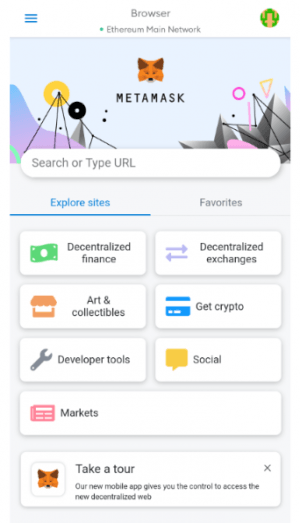 After transferring Ethereum to your account, which we'll cover in another article, you can come back to these applications and try them out. The great thing about MetaMask is that it makes connecting to dapps fast and easy.
You'll be navigating the new decentralized web in no time!